...doesn't mean you should wear it! I'm talking today about sweatpants with words on the butt. I walk into the grocery store this morning and coming toward me is this twenty-something. She's had a rough morning if I'm to judge by her appearance: dark, unwashed hair caught up in a sloppy bun, cigarette dangling from chapped lips, giant hoop earrings, tight pink camisole under dirty white sweat jacket, even dirtier white sweatpants, clog-style sneakers, no socks, sunglasses with bling all around the eyes and earpiece, but with one earpiece broken off, giant oversized metallic bronze shoulder bag, and lots of attitude. She is a young woman who is losing her figure rapidly: the camisole is too tight, the sweat jacket is too short and is tight in the arms and her sweatpants stretch perilously across her thighs. She grabs a cart and roughly pushes it toward the automatic doors, stopping only to crush her cigarette on the pad inside the store.
It's when she passes in front of me that I see it. A word. A single word written in glitter and jewels right on her butt: Sexy. Really? Sexy? Well honey, not today you aren't. Seeing her got me to thinking about the sweats with words on them. Are they really a good idea for anybody? Is
what's
written more important than
where
it's written? Should there be an age limit? A size limit? I found a few pictures to help me decide.
The athlete. The cute young tween in sweats with the writing down the side. Adorable.
Did I mention a weight limit for sweat pants? Though you gotta give her credit for having attitude!
The future porn star. Is there a parent involved in this wardrobe decision? A form of child abuse, in my opinion.
Probably the only woman in these United States who can carry off this look, but does that mean she should? It's like a before and after picture from the girl above, only add in the 'tramp stamp' (tattoo on lower back just above buttocks).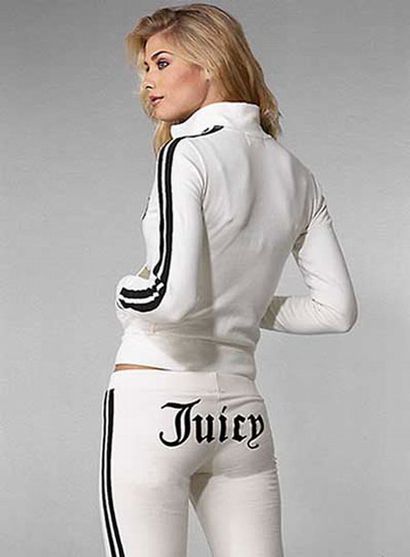 Let's face it, even the awesome ass girl featured above looks stupid with 'Juicy' written across her butt. We need to help all these fashion challenged individuals that treat their butt like the bumper of their car.
Hmm, bumper stickers on cars...that sounds like a blog for another day to me...